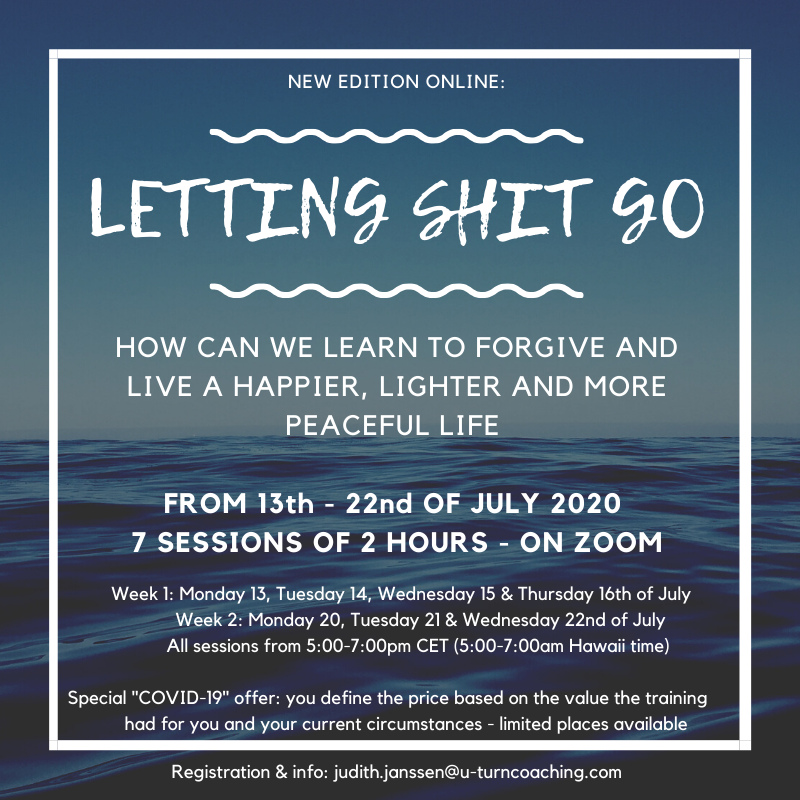 Date
Jul 13 2020
- Jul 22 2020
Expired!
Cost
Special COVID 19 offer: You define the price
Letting Shit Go
Description
In this 7-session online program you will learn in a pragmatic and dynamic way how to forgive and to let go of any hurt, grudges and grievances. You will learn about the importance of forgiveness and about living your life with compassion towards yourself and others as key steps to feel happier, lighter and at peace with yourself. It is a profound and transformational program that will help you to take back the leadership in your life.
In the first 2 sessions we will focus on self-compassion: how can we treat ourselves with more kindness and compassion and cultivate a friendly inner dialogue. In the following 5 sessions we will focus on forgiveness: how can we learn to forgive somebody that hurt us (which can be ourselves) and to let go of this burden.
What do we need to bring to the program?
An open mind, willingness to work in depth on matters that might be intense or emotional, willingness to share and learn from others, and above all, willingness to leave the program lighter and happier!
Program requirements
When registering it is important:
· to be able to attend all 7 sessions

·

to create a Zoom account and test the technology before the program starts

·

to make sure you are sitting in a quiet place where you can speak freely, honestly and openly and at the same time respect the confidentiality of others

·

to have a journal and pen ready

·

to commit to preparing some homework before each session
https://www.linkedin.com/in/judith-janssen-mba-cpcc-acc-3a6ab71/